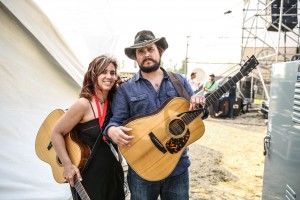 The Small Glories is the musical union born of Winnipeg-based veteran singer/songwriters Cara Luft and JD Edwards.
Cara — a Juno award winner and co-founder of folk trio The Wailin' Jennys — has earned a solid reputation as an exciting live performer, accomplished guitarist, clawhammer banjo player and insightful songwriter.
JD is not only an energetic performer and prolific singer songwriter, he's got a distinctive and powerful voice to boot. Fronting the JD Edwards Band since 2006, JD's songwriting style flows from country and blues to folk and rock.
The pair discovered their musical chemistry quite by accident while performing together at the West End Cultural Centre's 25th anniversary event in October 2012 — where they were partnered together and ended up stealing the show. In 2014, when their busy schedules finally allowed it, Cara asked JD to join her on her winter tour. Given their shared history of growing up singing in musical families, their abilities as strong lead and harmony singers, combined with their songwriting skills and musical adeptness, it's no wonder they've struck just the right chords as a dynamic duo.