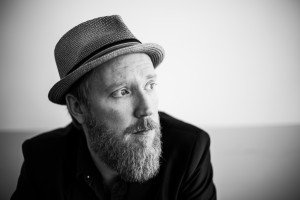 WCMA-nominated songwriter Scott Nolan has earned plenty of respect for his earnest, if slightly weatherworn music. His are the songs sung for people with a past, sturdily backlit with unswerving musicianship and a disposition rooted in the best of rock 'n' roll, roots, and Americana.
Some have called Winnipeg-based songwriter Scott Nolan noteworthy, even acclaimed — but the smart money cites Nolan as a voice rarely heard this side of the century, a musician that shakes away any five-dollar- cover singer-songwriter motifs before he unsnaps his guitar case.
Weaving between the twang of a parlour electric guitar and heavy-hearted dirges, Nolan's work offers up heady balladry alongside more muscular outflow. Nolan's latest album, Silverhill, is being released by Transistor 66 Record Co. and distributed by Outside Music.