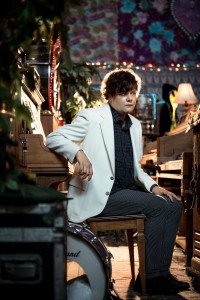 Self-deprecating almost to a fault, Ron Sexsmith has been a critical success ever since his self-titled debut back in 1995, winning the admiration of major league songwriters such as Elvis Costello and Paul McCartney along the way.
His latest effort, Carousel One, is a warm, deeply involving set of songs that showcases Sexsmith's great empathy and occasional sentimentality, but also his often-overlooked playfulness. Although the sound and feel are inspired by '70s albums from the likes of Phoebe Snow and Gerry Rafferty, it's a record that sounds very fresh and modern.
Carousel One (named for the luggage retrieval belt at Los Angeles airport where bags off Toronto flights are delivered) is probably Sexsmith's most diverse album, another "happy accident". Songs like 'No One' came from the idea of attempting to write in the vein of Roger Miller. Opening track 'Sure As The Sky' originated as a folky campfire song but it turned into more of a folk/rock number.
'Saint Bernard' meanwhile, is a tribute to an anonymous family dog from a photograph picked up in a second-hand shop by Ron's wife, Colleen. It's the perfect example of how he can make even a wistful, nostalgic song turn with a touch of humour, equating the dog that saves him as his own personal minibar.
"They've always been my favourite type of dog. I was sitting in the kitchen one day playing guitar, I had this melody but no lyrics, so I looked up at the picture and just started singing the opening lines. I guess the album is kind of a travelogue of music that I like which was mostly a happy accident"
So, here's to happy accidents; raise a glass to Ron Sexsmith's Carousel One and his new-found contentment.