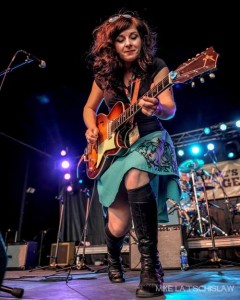 Little Miss Higgins (aka Jolene Higgins) was born in Brooks, Alberta, and raised in Independence, Kansas. While she grew up playing piano, Higgins now uses her guitar, voice and theatre background to deliver her unique country/blues storytelling to the stage. After making Saskatchewan her home, she's since built a solid reputation as a musician throughout Canada, appearing in clubs and festivals in Edmonton, Winnipeg, Montreal, Owen Sound, and Canso, Nova Scotia — performing most often as a duo with guitar player Foy Taylor.
In the past ten years, Higgins has released four albums: "Cobbler Shop Sessions" (2006), "Junction City" (2007), "Little Miss Higgins Live: Two Nights In March" (2009) and finally, in 2013, Bison Ranch Recording Sessions — resulting in a handful of honours, including JUNO and Maple Blues Awards nominations. The album also won Outstanding Blues Recording at the Western Canadian Music Awards, plus Favourite Blues Artist/Group or Duo of the Year category of the 8th Annual Indies Awards.
To record "Bison Ranch," Higgins teamed up with Manitoba quintet the Winnipeg Five: Jimmie James McKee on trumpet, Eric Lemoine on banjo and pedal steel, Blake Thomson on guitar, Patrick Alexandre Leclerc on upright bass, Evan Friesen on drums — with all five singing harmonies.