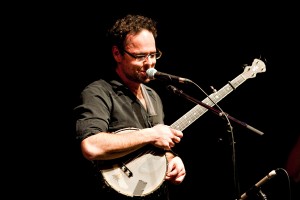 Founder and band leader of The Duhks, Leonard Podolak is an innovator and folk music contributor, touring music festivals throughout the world. Leonard's unique style of Claw-Hammer banjo makes a place for the five string in all of these traditions, from the string traditions of Appalachia, Ireland, Scotland, England, Quebec, and Louisiana, while bringing in influences of Gospel, Blues, Rock, Afro-Cuban, and African traditions.
A Grammy and Juno award winner, along with many nominations under his belt, the biggest accolade came from his hero Doc Watson, who once told him at Merle Fest, that Leonard's banjo playing on the first Duhks CD, "Your Daughters And Your Sons", was as fine a Claw-Hammer pickin' as he'd ever heard!
Leonard Podolak's current projects include touring with the Duhks in late 2015/ early 2016, recording producer with Canadian Maritime band Ten Strings and A Goat Skin, a duet band with fiddle player Matt Gordon and the quartet band Dry Bones.
http://leonardpodolak.com/