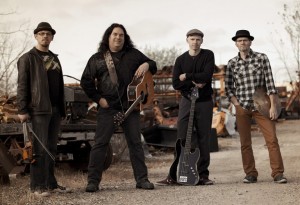 Prepare for an addictively good time with the Dust Rhinos — Winnipeg's very own butt­kickin' celtic roots rockers, bringing the party to every venue and festival they play.
Using traditional airs, reels, and jigs, the Dust Rhinos conjure up the Ireland of olde while bringing the full force of their own monster sound with the use of fiddles, mandolins, and something called a bodhran.
Blossoming from a trio of buskers to a four-­piece Celtic rock outfit, the band is known for luring people out of their seats and onto the dance floor. Influenced by bands like the Pogues, the Oysterband, Spirit of the West, the Clash, and Peter Gabriel, the band delivers complexity to the traditional celtic rock genre, what they call "an aggressive, but subtle sonic assault."
Since 1992, the Dust Rhinos have brought their particular brand of punk­flavoured Irish trad to basement pubs or festival stages, playing with acts as varied as The Dropkick Murphys, Gaelic Storm, Alabama, Leahy, the Barra MacNeils, and the Nitty Gritty Dirt Band. It likely goes without saying, but these guys never get St. Paddy's Day off.
The Dust Rhinos are: Blair McEvoy (vocals, guitar, bodhran), Dale Brown (fiddle, mandolin, banjo, vocals), Dan Cannon (bass guitar, vocals), and Darren Wittmann (drums).