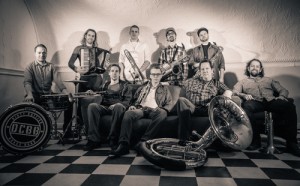 Hot, alive, and brimming with soul, the Dirty Catfish Brass Band not only aims to bring traditional New Orleans brass tradition to the prairies, but demands you to get up off your seat and shake it.
Formed in 2011, the Dirty Catfish Brass Band play the festival and venue circuit throughout their home base of Winnipeg and throughout Manitoba.
In the true Louisiana tradition, they stick to the spontaneity of festivals, alleyway performances and all around late nights. According to their website, one of the bands favourite things to do is to interact closely with their audience. "The band doesn't ask permission to play, and the crowd doesn't ask them to stop."
Armed with talent, skill and a whole lot of musical training, the dectet write many of their own original pieces, but also rework a range of highly non-­traditional covers from the likes of country icon Stompin' Tom Connors, to modern pop stars Janelle Monae and Taylor Swift.
Dirty Catfish Brass Band's first release 'Brass Riot' (2014), is a nine­song collection has gained radio play across North American college radio stations, CBC Radio, and is a prime example of the group's diverse background.