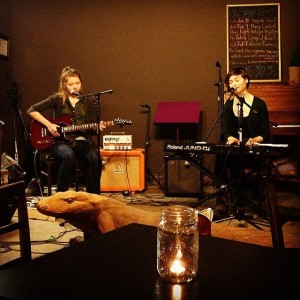 Formed in 2013, infectious indie duo Bicycle Face create melodic synth pop housed in electric guitar and intricate harmonies.
Both women lend their vocals to the group, with Brandonite Ava Glendinning playing the electric guitar, while Langruth native Theresa Thordarson plays the keys and synthesizer. Both now live in Winnipeg, and have spent the past month recording their first EP — a self­-titled project slated for release in August. They're planning their first mini-­tour for July in Alberta.
How they describe their music is, in itself, intriguing: idiosyncratic lyrics tell stories of ambivalent fairy tale heroines, lost love in outer space, and computer viruses intent on world domination. Their sound is akin to Metric — or Joanna Newsom with effects pedals.
The band's name comes from a late 19th century fictitious disease, created by doctors who disapproved of the freedom women acquired with the increased availability of bicycles. Symptoms of this manufactured disease included "a clenched jaw and bulging eyes," among other unattractive features. The recommended cure, unsurprisingly, was for women to stay home.