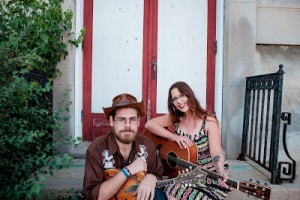 Veteran roots songstress Allison Brown along with mandolinist "Uncle" Dan Henschell will deliver self­crafted songs and stories and selected roots music. Allison's sweet yet powerful voice and subtle guitar work is supported by Dan's expert mandolin accents and solos, bringing their most authentic personalities to the stage for a refreshing conversation with the audience.
Using a combination of honesty, humor and a touch of bitterness, the London (Ontario) musician explores leaps of faith, longing for love and meaning, the toils of the road, bad luck, bad weather, plus heroes and villains originals — alongside a classing roots, country, gospel, blues and bluegrass repertoire.
Allison's love of roots and blues music also has her volunteering as a campus radio host in Windsor — on a program called "Border City Roots" — where as a freelance music writer she features and reviews emerging artists in the eclectic Windsor/Essex scene, Southern Ontario, and from all corners of Canada.